From 18th – 20th of May 2020, the Asian Turtle Program (ATP) of Indo-Myanmar Conservation (IMC) worked with Pu Mat National Park (NP) in Nghe An Province, Vietnam, to undertake community interviews surveys in three communes in national park buffer zone. The surveys aimed to get a better understanding of local people's awareness and attitudes towards the endangered Big-headed Turtles (Platysternon megacephalum).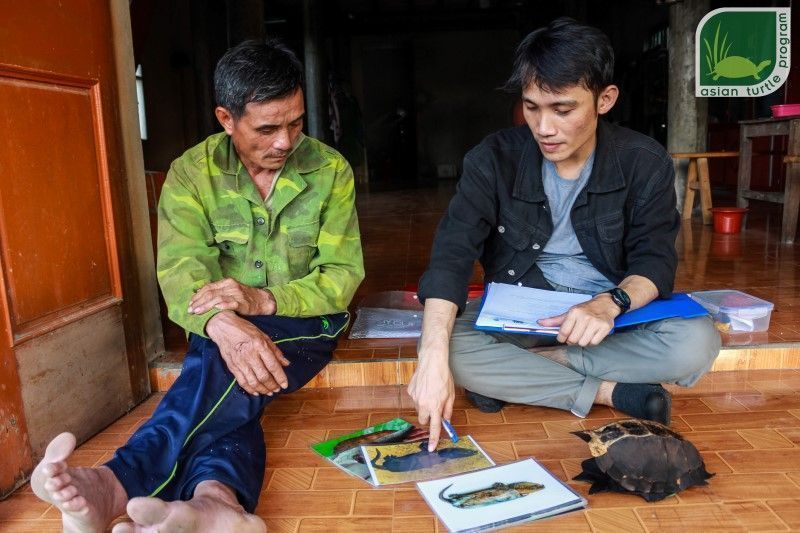 A total of 101 local people, including local rangers, officers, farmers, and professional Big-headed Turtle hunters, were questioned during this interview survey. The interview's findings will help us to design the best approach to communication community awareness to reach key individuals about Big-headed Turtle conservation at Pu Mat National Park.
These interview surveys are one of the most important components of a broader project aiming to assess release strategies for confiscated Big-headed Turtles in Vietnam.
We would like to thank Pu Mat National Park for their cooperation in this activity, Fondation Segré Conservation Fund, the EDGE of Existence programme and Cleveland Metroparks Zoo for their support of this project, our project partners, the Zoological Society of London (ZSL), Paignton Zoo, Nordens Ark, the Centre for Natural Resources and Environmental Studies (CRES), and all of our numerous partners who have contributed along the way.
Date: 2nd June 2020
Press release by: Hoang Van Ha – ATP/IMC
Download the English version

Download the Vietnamese version