Other turtle conservation projects & rescue centers in Southeast Asia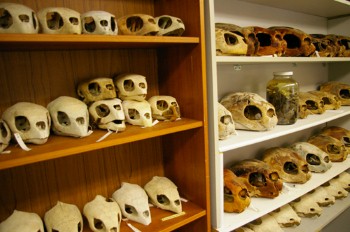 Chelonian Research Institute – Dedicated to the study and conservation of turtles and tortoises of the world
The Institute features a research facility, library, offices, museum, residence for visiting scientists and a sanctuary. Situated on a 10-acre forested urban oasis, the facility boasts a beautiful natural landscape, shared by nature's wildlife, including wild turkeys, birds of prey, and several species of snakes.
It has more than 13,000 catalogued specimens – the world's third largest turtle and tortoise museum collection – including 270 of the world's 300 recognized species of turtles. Every living genus of chelonians is represented here.

The Mekong Turtle Conservation Center (MTCC) is located at the beautiful and historic 480 year old 100 Pillar Pagoda, (Wat Sor Sor Muoy Roy), north of Kratie town in Sambor district. The MTCC was opened by Conservation International to increase the wild population of the endangered Cantor's Softshell Turtle (Pelochelys cantorii) in the nearby Mekong River, through headstarting turtle hatchlings from the community-led turtle nest program. Turtle's at the centre are being headstarted as part of CI's conservation initative.
The facility has over forty indoor tanks containing juvenile turtles which are kept for a 10 month period before releasing into their natural habitat, the Mekong River. This headstarting process increases hatchling survival rates. The MTCC also has as a large outdoor pond for the turtle breeding program where you can view the larger adult Cantor's Softshell Turtles. There are also many other Asian turtle species at the facility to see.
Come and see the turtles and this unique conservation project in action!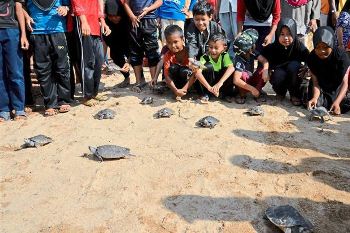 Critically endangered river terrapins are bred and released to replenish their declining numbers in the wild.
On a sunny morning in early September, a huge crowd gathered by the Terengganu River bank in Kampung Dusun, Malaysia. Word had gotten around about an exciting event – the release of baby river terrapins. It appeared as if the whole village had showed up. At the end of this momentous event, some 100 baby river terrapins made their way to their rightful home. The terrapins that were released that day had been hatched and raised at the Kuala Berang Wildlife Conservation Centre in Bukit Paloh, a facility which was opened by Perhilitan in 1976 to safeguard the survival of river terrapins.

The Memorandum of Understanding on the Conservation and Management of Marine Turtles and their Habitats of the Indian Ocean and South-East Asia puts in place a framework through which States of the Indian Ocean and South-East Asian region, as well as other concerned States, can work together to conserve and replenish depleted marine turtle populations for which they share responsibility.
The species of marine turtles covered by the MoU are the Loggerhead Caretta caretta, Olive Ridley Lepidochelys olivacea, Green Chelonia mydas, Hawksbill Eretmochelys imbricata, Leatherback Dermochelys coriace, and Flatback Natator depressus.
Conservation of the pig-nosed turtle (Carettochelys insculpta) in Kikori, Papua New Guinea
In the Kikori community, researchers, locals and the petroleum industry are working together to save Piku, the pig-nosed turtle. The pig-nosed turtle is native to northern Australia and southern New Guinea. This unique freshwater species gets its name from its long, fleshy snout, which acts like a snorkel while the turtle is swimming. It is categorized by the International Union for Conservation of Nature (IUCN) as Vulnerable but the species has experienced a population decline of more than 50% in the thirty years between 1981 and 2011 due to hunting and the harvesting of eggs. For more information about this community – led conservation programme and the conservation efforts of our colleagues to save this species from the brink of extinction visit their facebook page:

Photographic database which aims to assist students or amateurs to identify reptiles in Hong Kong. The website includes all 94 local reptile species (16 turtles, 23 lizards and 55 snakes)