The Indo-Myanmar Conservation is seeking a suitable candidate for the position as a Project Assistant
Title: Project Assistant
Organization: Asian Turtle Program (ATP)
Location: Hanoi, Vietnam
Start date: March 2022
Duration: One year with possible extension
Position reports to: Vietnam Turtle Program Coordinator
Scope of work
The position of Project Assistant is to support ATP's various activities at many project sites throughout the country such as Dong Mo lake in northern Vietnam, Thua Thien Hue and Phu Yen in central Vietnam, etc. The Project Assistant will work directly with and under the guidance and supervision of the Vietnam Turtle Program Coordinator. He/She will assist the Coordinator and project officers in different project teams regarding field activities and other tasks at the project sites.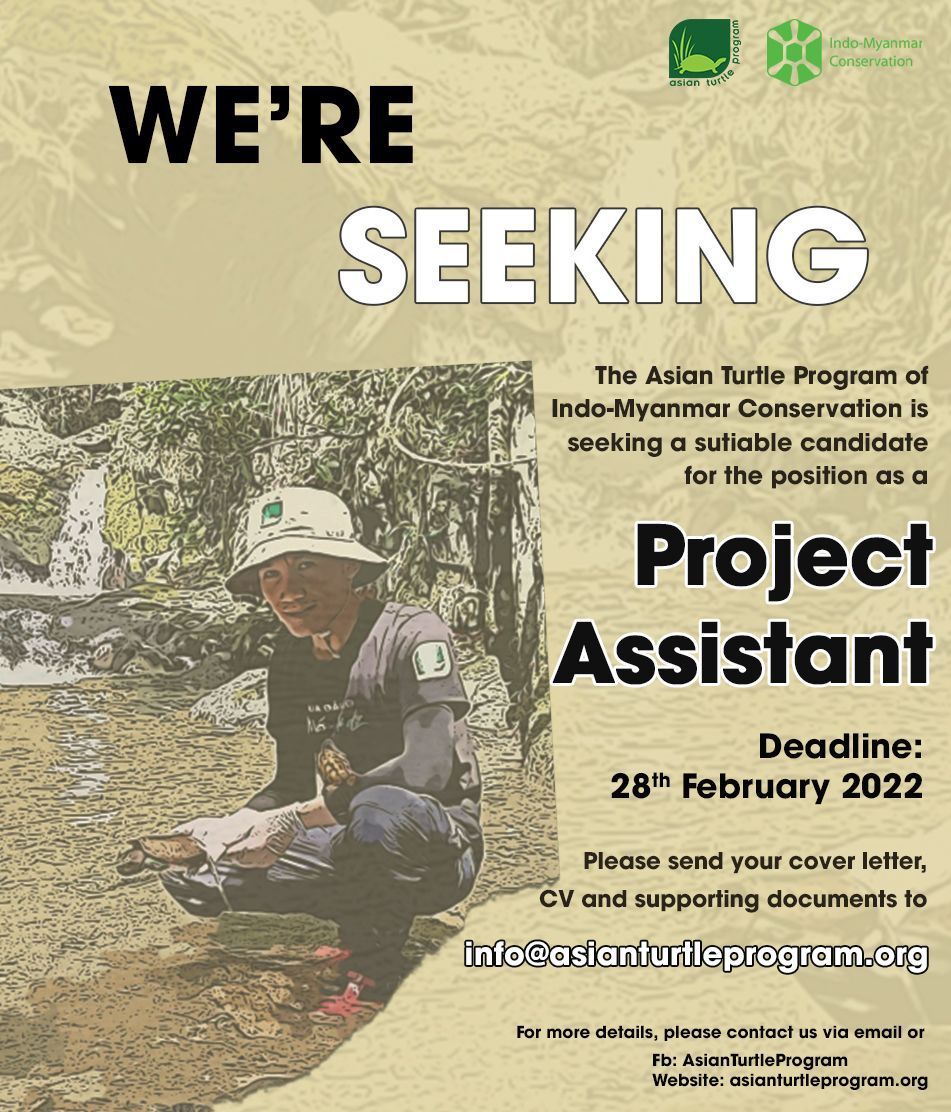 Main responsibilities
Assist project officers in implementation of various project field activities, including interview and field surveys, education and awareness program, and other turtle research and conservation activities
Provide support in logistic and preparation work related to field activities/ important events
Assist line manager/director in data collection, completion of monthly and overall project reports
Provide support to administrative and communications work including translation of documents into English and Vietnamese, completion of field records, etc.
Provide a regular report to the line manager
Other tasks as required
Essential
Passionate about animals, wildlife conservation, stand for animal protection
University Degree in forestry, biology, ecology or related fields
Having at least 1-year experience working in the related fields
Ability to multitask effectively, ability to work under deadline pressure with minimum supervision.
Positive attitude to work with the local communities, government officers, local staff, national and international volunteers
Able to travel long distance without any health issue (such as car sick…) and do the field work in a period of 2 weeks or more
Good Vietnamese and English speaking and writing skills
Competent in computer software (Word, Excel, PowerPoint, Email…)
Desirable
Flexibility and a sense of humour – ability to work, live and thrive in challenging circumstances;
Have a high level of personal and professional integrity and trustworthiness;
Be both self-confident and humble;
Thrive in a fast-paced and fun environment
Application procedure
Interested applicants should send their cover letter, CV, and supporting documents to:
Ms. Bui Thi An – HR Manager
Asian Turtle Program – Indo-Myanmar Conservation
Email: info@asianturtleprogram.org
Application deadline 28th February 2022
We regret that only short-listed applicants will be contacted.