A new discovered species of fanged frog highlights the importance of lowland forest in southern Vietnam
The Phu Yen Fanged Frog, Limnonectes phuyenensis, named from its home in Ca Forest, Phu Yen Province, Vietnam, has been discovered by a field research team which included staff of the Asian Turtle Program of Indo Myanmar Conservation. This species inhabits lowland evergreen forests and reproduces in headwater streams at the elevation over 300 m asl.
The adults can reach up to 8 cm in length in males and 6 cm in females. Distinguishing features of the species include an invisible tympanum (external ear), ridged and tuberculate dorsum (back), tuberculate outer thighs, and fully webbed toes. This species has a yellowish brown back with dark brown markings and a white belly with brown markings. This species breeds in headwater streams; the females lay eggs in small, shallow water holes or in streams.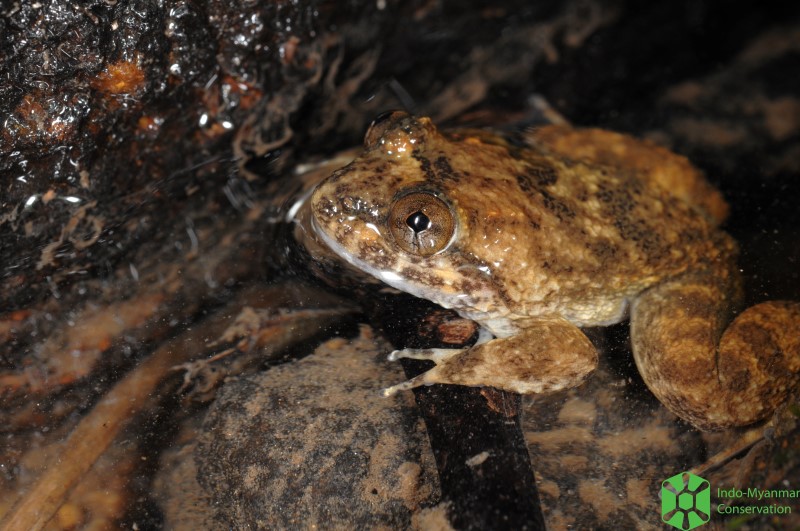 This species belongs to the fanged frogs, a diverse group of frogs with 75 known species, widely occurring in Asia. The group is named after to the "fangs" on their lower jaws. The description of this new species raises the total number of this group in Vietnam to 15 species and interestingly, it is the southernmost record of this group in Vietnam as well.
Ca Forest is also the only known habitat of a micro-endemic and Critically Endangered freshwater turtle, the Southern Vietnam Box Turtle (Cuora picturata). Sadly, the Ca Forest Range is not a fully protected area, Nature Reserve or National Park, and such does not benefit from the same level or staffing or infrastructure required, this means that some selective logging and hunting activity continues in the forest.
This finding highlights the importance and biodiversity of lowland forest in Ca Forest, together the ATP/IMC is working with our partner at this site, the Southern Institute of Ecology (SIE) and local and national government agencies to support the upgrading of the protected status of Deo Ca Forest in the near future.
This work has been carried out under a wide collaboration of scientists from the Asian Turtle Program (ATP) of Indo-Myanmar Conservation (IMC) (Vietnam), Institute of Ecology and Biological Resources, Vietnam Academy of Science and Technology, Central Institute for Natural Resources and Environmental Studies, Phu Yen University, and AG Zoologischer Garten Köln (Germany).
This is the result of months of surveys and research completed as part of a project funded by National Geographic Research and Exploration (grant #NGS-52753R), Cleveland Metroparks Zoo (CMZ) and the Rainforest Trust.
25th November 2020
Press release by: Nguyen Thanh Luan and Bich Kieu – ATP/IMC