New cool T-shirt to support the conservation of the endangered Big-headed turtle in Vietnam
Big-headed Turtles are one of the world's most threatened turtle species, due largely to increasing illegal hunting and trade. As a result, the species has been designated as an Evolutionarily Distinct and Globally Endangered (EDGE) species, as part of the Zoological Society of London's EDGE of Existence initiative.
As part of a Big-headed Turtle EDGE project, the Asian Turtle Program of Indo Myanmar Conservation has been working with numerous international and local partners to assess the release strategy for confiscated Big-headed Turtles in Vietnam during the last three years. The ambition is to develop a pre-release and post-release procedure for not only Big-headed Turtles but also other confiscated tortoise and freshwater turtle species in Vietnam.
You can help generate awareness of the species' plight and advance Big-headed Turtle conservation with the purchase of a t-shirt and/or a donation today. Your generosity supports efforts to help Big-headed turtle rehabilitation and care and to release them back into the wild.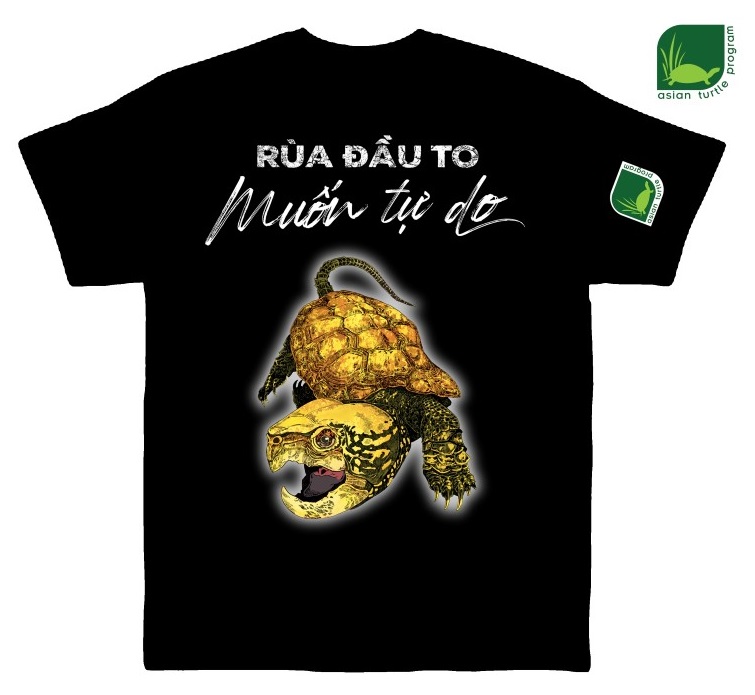 26th November 2020
Press release by: Ha Hoang – ATP/IMC
We would like to thank Fondation Segré Conservation Fund, the EDGE of Existence programme, the Zoological Society of London (ZSL), Paignton Zoo, Nordens Ark, the Centre for Natural Resources and Environmental Studies (CRES), Cleveland Metroparks Zoo (CMZ), Cuc Phuong National Park and Pu Mat National Park, and all of our numerous partners for the Big-headed Turtle Project.