The Indo-Myanmar Conservation is seeking a suitable candidate for the position as a Communications Assistant
Title: Communications Assistant
Organization: Asian Turtle Program (ATP)
Location: Hanoi, Vietnam
Start date: Mid-July 2022
Duration: One year with possible extension
Position reports to: Vietnam Turtle Program Coordinator and Program Director
The ATP in Vietnam: The Asian Turtle Program was established in 1998 and incorporated into the Cleveland Metroparks Zoo/Cleveland Zoological Society's Asia regional program in 2003. In 2014, the ATP merged with the UK registered charity, Indo-Myanmar Conservation (IMC), to extend the scope of work to include additional taxa during field surveys, and alternative livelihood projects. Since the ATP originated with the development of the Turtle Conservation Centre (TCC) at Cuc Phuong National Park in Vietnam, a key focus has always been on the conservation of tortoises and freshwater turtles (TFT) in Southeast Asia, with an emphasis on Vietnam.
The ATP aims to establish a safe and sustainable future for Asian turtles and to ensure that no further turtle species become extinct in the region. We implement strategic interventions that directly contribute to the conservation of Asian turtles, helping to ensure efficient use of limited resources, as well as developing capacity, strengthening leadership, and ultimately effecting positive attitudinal and behavioural change within society.
Activities in Vietnam have focused on priority species including critically endangered and endemic species of greatest conservation concern. Projects have focussed on the endemic Vietnamese Pond Turtle (Mauremys annamensis), Bourret's Box Turtle (Cuora bourreti), Southern Vietnam Box Turtle (Cuora picturata) in central Vietnam, the Big-Headed Turtle (Platysternon megacephalum) and the legendary Hoan Kiem Turtle/Swinhoe's Softshell Turtle (Rafetus swinhoei) in northern Vietnam. Swinhoe's Softshell Turtle is largely recognised as the most endangered turtle species in the world.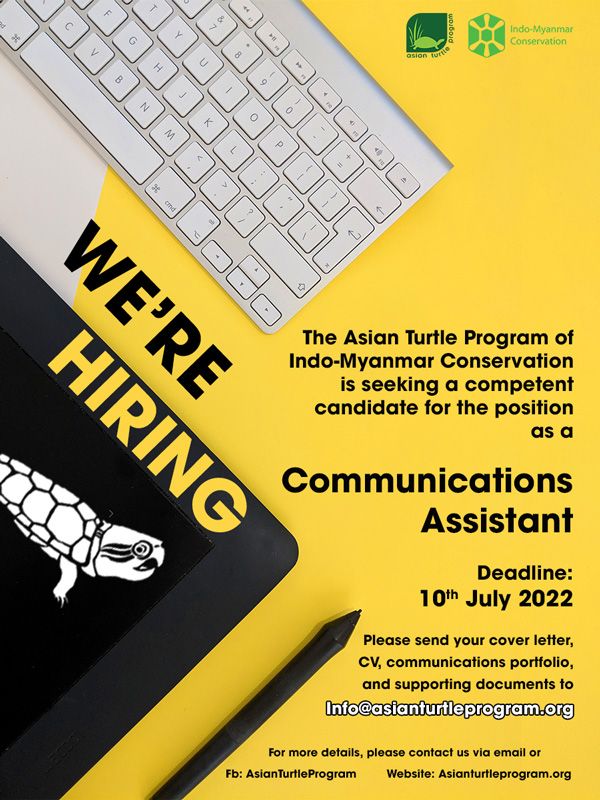 Scope of work: The objective of this assignment is to assist ATP/IMC by providing office-based support for all current activities with a focus on the development of high-quality communications materials and products.
Main responsibilities: The Communication Assistant will undertake communication-related jobs at both organizational and program levels. The Communication Assistant's tasks include but are not limited to the following:
Drafting and posting press releases, social media and web content, etc. to raise the profile of the organisation and activities.
Scanning news; preparing weekly turtle bulletin; preparing and sending out quarterly newsletters, etc.
Assisting project staff in developing awareness materials such as informational videos, posters, infographics, brochures, etc. as required, to promote the ATP/IMC's research and conservation work in Vietnam
Supporting the preparation and logistics of communications events such as a workshop, school programs, etc.
Providing support to ATP/IMC communications (including soft/hard filing systems, data input/collection for the library, research database, and resource distribution)
Translation documents, press releases and reports from English into Vietnamese and vice versa.
Updating illegal trade database
On some occasions, staff in this position might be required to visit field sites to improve their understanding and support completion of their main responsibility.
Other tasks as required
Required:
Bachelor's degree in communications, journalism, marketing, or related field.
Outstanding verbal and written communication skills, both in English and Vietnamese.
Demonstrate decent photography and videography skills
Be able and willing to work well in the field
High level of motivation, with the ability to remain focused with limited supervision
Passionate about wildlife conservation
The ability to multitask, high creativity and great interpersonal skills
Preferred:
Ideally proficiency in graphics and design software such as Photoshop, Illustrator and InDesign.
Experience in using and managing the website in the WordPress platform
Experience in using various social media platforms, including Instagram, Twitter, YouTube and Facebook.
Application procedure
Interested applicants should send their cover letter, CV, communications portfolio, and supporting documents to:
Ms. Bui Thi An – Finance & Human Resource Manager
Asian Turtle Program of Indo-Myanmar Conservation
Email: info@asianturtleprogram.org
Application deadline 10th July 2022
We regret that only short-listed applicants will be contacted.