New biodiversity survey highlights the species diversity of Ca Forest, central Vietnam
Ca Forest is located on the northeastern part of Langbian Plateau within three provinces in central Vietnam; namely Phu Yen, Khanh Hoa, and Dak Lak province. This is the only known location of the endemic and critically endangered Southern Vietnam Box Turtle (Cuora picturata). This area also harbours a variety of rare flora and fauna species, with new species being discovered and described every year. Almost all areas in Ca Forest are Watershed Protection Forests, a low protection level in Vietnam (the highest level is National Park, followed by Nature Reserve).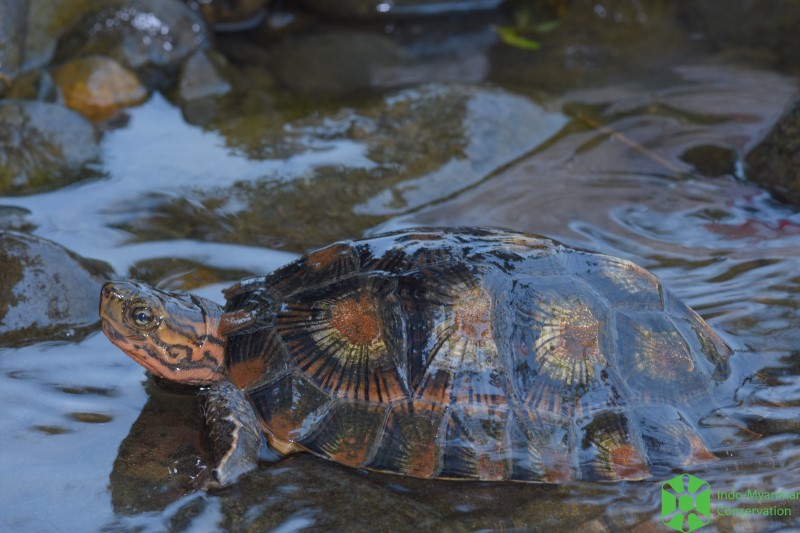 Since 2012, the Asian Turtle Program of Indo-Myanmar Conservation has been working with local partners to conserve tortoise and freshwater turtle (TFT) species in this area. Ten field surveys have been conducted to discover and highlight the importance of Ca Forest's diversity.
In March 2021, a two-week biodiversity survey was carried out by the team from Asian Turtle Program in Tay Hoa and Song Hinh, Phu Yen Province, not only focusing on TFT species but also covering other amphibians, reptiles, mammals and birds. This survey concentrated on the wetland and swamp/stream alongside Ca Forest. During the survey, 70 non-lethal aquatic traps were placed in two priority sites to search for TFT, and 30 camera traps were installed in the forest to find mammals. At night, transect surveys were conducted to find amphibians and reptiles.
From the trapping, one turtle, an Eastern Black-bridged Leaf Turtle (Cyclemys pulchristriata), was found and it was measured and documented before being released back to the capture location. A total of 70 species of bird was observed and photographed and 60 species of amphibians and reptiles were recorded. Of those species recorded, many are listed in the Vietnam Red Data Book (e.g. Tokay Gecko (Gekko gecko)  – Vulnerable; Forest Toad (Ingerophrynus galeatus) – Vulnerable; Oriental Ratsnake (Ptyas mucosa) – Endangered). Two species, the Eastern Black-bridged Leaf Turtle (Cyclemys pulchristriata) and the Oriental Ratsnake (Ptyas mucosa) are protected under Vietnam's principal wildlife law, Decree 06/2019/ND-CP and Appendix II of CITES. Notably, six individuals of Bengal Slow Loris (Nycticebus bengalensis), including two juveniles, were observed and photographed at night. These individuals were found in the evergreen forest within Ca Forest. The findings help highlight the diversity and importance of Ca Forest area and give support for the upgrading of the protection level of the area.
7th May 2021
Press release by: Nguyen Thanh Luan and Kieu Ngoc Bich – ATP/IMC
Acknowledgement:
The survey was a part of conservation projects sponsored by Cleveland Metroparks Zoo and the Mekong WET which was facilitated by the IUCN and the International Climate Initiative (IKI) of the German Federal Ministry for the Environment, Nature Conservation, Building and Nuclear Safety (BMUB).
We would also like to thank Phu Yen Province's Forest Protection Department for supporting the survey.