Following 65 days of incubation a critically endangered Indochinese Box Turtle (Cuora galbinifrons) hatchling emerged on the 6th of September at the Turtle Conservation Center (TCC), Cuc Phuong National Park, Vietnam. The egg was incubated in-situ in a semi-wild enclosure at the centre, protected using a mesh-wire cage under leaf litter to ensure cooler temperatures during hot Vietnamese summer ideally incubation for is best cool, between 26°C – 28°C, significantly cooler than the summer temperatures at the TCC which often rise well over 30°C, even at night. These high temperatures have been problematic for incubation of turtles of the Cuora genus at the national park where indoor incubation cannot be used, with regular extended power outages meaning egg chillers have never been installed. While in-situ incubation has been seen to have some level of success the TCC hopes to obtain a battery operated chiller system that can be solar run to increase future success for this critical group of turtles at the centre.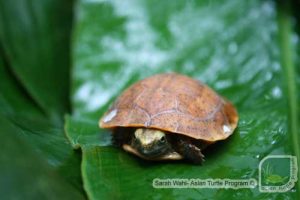 Wild populations of Indochinese Box Turtle have been dramatically reduced due to intensive hunting throughout its range. Globally they remain poorly represented in captive collections of zoos or assurance colonies and have proven to be difficult to keep or breed in captivity. As such genus has been identified a conservation priority for breeding at the centre.
Press Release by: Sarah Wahl – Turtle Conservation Centre (TCC), Cuc Phuong National Park
15th September 2011
In 2011 the Turtle Conservation Centre (TCC) is supported by Cuc Phuong National Park, the Vietnam Ministry of Agriculture and Rural Development, Intrepid Travel, Houston Zoo and Auckland Zoo.