On the 11th and 12th of June 2020, a two-day long training workshop was held in collaboration between the ATP/IMC, Quang Ngai Department of Natural Resource and Environment, and Biodiversity Conservation Agency (BCA) of Vietnam Environment Administration at the Ministry of Natural Resources and Environment in Quang Ngai province, central Vietnam.
We were pleased to be joined by 23 officers from Song Thanh Nature Reserve, Da Nang Forestry Protection Department (FPD), Ly Son Marine Protected Area, Quang Ngai Environment Protection Agency, Quang Ngai FPD, Quang Nam FPD, Quang Ngai Veterinary Department, Quang Ngai Environmental Police, and Quang Ngai Department of Market Surveillance in this special training course.
The participants spent a busy two days working with BCA and ATP/IMC's skilled conservation professionals and learning about the Vietnam National Turtle Action Plan as well as the 'Asian Turtle Crisis' and priorities for turtle conservation in the region. Much of the workshop was dedicated to giving the attendees essential skills to aid Vietnam's conservation efforts such as identification of endangered and protected turtle species (including tortoises, freshwater turtles, and sea turtles), and techniques to rescue and care for confiscated tortoises and freshwater turtles.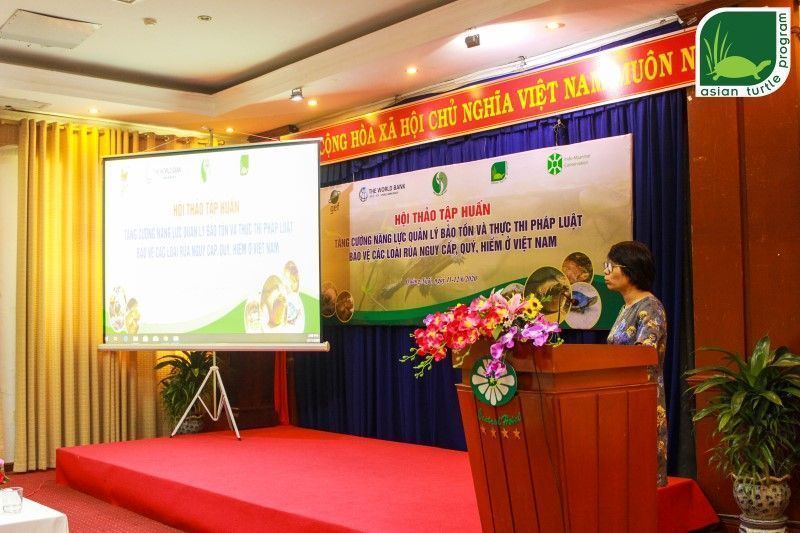 We are grateful to the attending officers for participating enthusiastically. This training is dependent on our generous donors and we would like to especially thank the Global Environment Facility (GEF) and the World Bank (WB).