During the first week of April 2018 we have organised the annual Tortoise and Freshwater Turtle Field Skill Training Course for students in Vietnam. Held from the 30th of March to the 7th of April 2018, a group of 10 students from different universities from throughout Vietnam and one ranger from Pu Mat National Park have been brought together at Cuc Phuong National Park to take part in the 14th annual training course. The course has been developed and presented by experienced staff from the Asian Turtle Program (ATP) of Indo-Myanmar Conservation (IMC), the Turtle Conservation Centre (TCC) of Cuc Phuong National Park, and a guest instructor from Hanoi University of Science .
As usual, trainees enjoyed a combination of theoretical and practical sections with up to date knowledge and field skills on Tortoise and Freshwater Turtle (TFT) research and conservation. Presentations cover many aspects of TFT knowledge and field skills such as the Asian turtle crisis, turtle evolution and ecology, turtle identification, genetic considerations in TFT conservation, data collection, turtle field survey and interview survey techniques.
This year, during the field survey skills practicum in the core zone of Cuc Phuong National Park we were very fortunate to find a juvenile Keeled Box Turtles (Cuora mouhotii) during the time-search method practicum. This finding along with other records of the species at this area showing Cuc Phuong National Park is likely still to have a viable wild population of this native species.
With nearly 15% of Vietnamese native TFT species are now highly threatened in the wild, listed under the world's top 25 most endangered tortoise and freshwater turtles, we hope to provide more troops to fight for conservation of TFTs in Vietnam.
Press release by: Hoang Van Ha – ATP/IMC
Date: 5th April 2018
We would like to thank Cleveland Metroparks Zoo for supporting this activity. A special thanks to Cuc Phuong National Park, Ninh Binh Province for their continued collaboration on this long term joint training activity.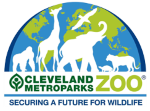 Photo gallery