From the 12th to 17th January 2015  staffs from the Asian Turtle program (ATP) have worked to create an artificial nesting beach for Swinhoe's Softshell Turtle (Rafetus swinhoei) in Dong Mo Lake, Hanoi, Vietnam. The lake is the only known wild habitat for the critically endangered species for which only four animals are currently known in existence globally, two in China's Souzhou Zoo, one in Hanoi's downtown Hoan Kiem Lake which is considered a sacred animal and one confirmed in Dong Mo lake in 2007 by the ATP. The species, which historically relied on wetlands and streams close to large river systems in northern Vietnam and southern China, suffered from habitat loss and fragmentation combined intensive hunting during the 1970's-1990's.  Mainly caught to be consumed locally, during this period R.swinhoei has reported been wiped out from most of its historic range.
Dong Mo is a large artificial lake of 1400 ha which was formed through the construction of a dam and dykes during the 1970 -1971. It is believed that some R.swinhoei became trapped at that time and have since grown up in the lake, while many were caught in the 1980's and 1990's at least one animal survives which is regularly photographed.   But with significant fluctuations in water level no natural nesting areas exist in the lake meaning even if a group of animals exists in the lake they would not be able to reproduce. Through the reconstruction of the nesting sandbank the species now has the opportunity to nest if more than one individual survives, it will also provide a basking site for the animal.
The sandbank has been built on a small artificial island in the lake that is secure, only accessible by boat. Measuring 10 x 5 m with a sand ramp extending down to the water, at the end of summer 2015 with low water in the lake the sand ramp will be extended to provide year-round access to the turtles.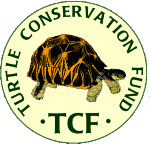 We would like to thank the Turtle Conservation Fund (TCF) and the Critically Endangered Partnership Fund (CEPF) for supporting this wor

k.
Date: 27th January 2015
Press release by: Nguyen Tai Thang – ATP
Photo gallery