Education for Nature – Vietnam (ENV) announces the release of its 33rd issue of the popular children's nature magazine, Green Forest, which includes helpful information about the natural environment. Green Forest 33 features the life of the Swinhoe's turtle, a symbol of spiritual culture closely attached to the history of the Vietnamese people. This publication introduces the biological characteristics and natural habitat of this rare animal. With only four individuals remaining, Swinhoe's turtle is truly facing extinction and the question is, whether our next generation will still have an opportunity to see it.
In addition, Green Forest encourages readers to discover the wonders of saltwater rays, and gives an overview of Bac Lieu Bird Sanctuary – a protected nature reserve and coastal paradise for
rare birds. Readers also have the opportunity to learn about nuclear power, a controversial but sustainable energy source for Vietnam.
This issue's Ranger Bear comic has Ranger Bear taking on a deep cover investigation of the bear bile business, using his skills and a range of excellent disguises. Green Forest also includes contributions from students and educators throughout the country, as well as activities, games, cartoons, and stories that provide an enjoyable way for students to learn about important issues relating to nature and the environment. Students have an opportunity to share their thoughts and ideas about environmental protection with others through stories, poems, or letters mailed to ENV for inclusion in Green Forest.
Green Forest Nature Magazine was first produced in 1998, 33 issues have since been produced and distributed mainly to children in rural communities bordering parks and protected areas throughout Vietnam. ENV estimates Green Forest currently reaches about 300,000 regular readers.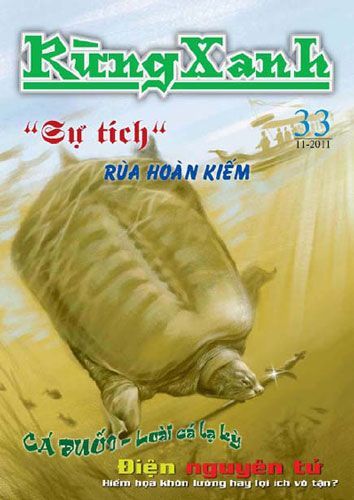 Hanoi, December 14, 2011
Past issues of Green Forest can be downloaded from the ENV website through the following link:
http://envietnam.org/library/green-forest.html
Thank you:
ENV would like to thank Toyota Motor Vietnam, Deutsche Gesellschaft für Internationale Zusammenarbeit- GIZ, the German Federal Ministry for the Environment, Nature Conservation and Nuclear Safety, and the Auckland Zoo for supporting this issue of Green Forest.