28th June 2023
Tran Thi Tuyet Dung (ATP/IMC), Sam Hai Son (ATP/IMC)
(Hanoi) – The Critically Endangered Big-headed Turtle (Platysternon megacephalum) is a unique species, morphologically and evolutionary distinction it is the only species within its genus. In recent years the species has been seen in higher frequency in illegal wildlife trade in Vietnam following improved enforcement activities in the country. The Asian Turtle Program (ATP) of Indo-Myanmar Conservation (IMC) and the Turtle Conservation Centre (TCC) of Cuc Phuong National Park have cooperated with other rescue centres in northern Vietnam to coordinate the rescue, rehabilitation and release Big-headed Turtles since 2015. This has included the health screening of animals for mycoplasma and herpes virus and DNA analysis to determine which sub-species the animals belong to so they can be released in the correct geographic location.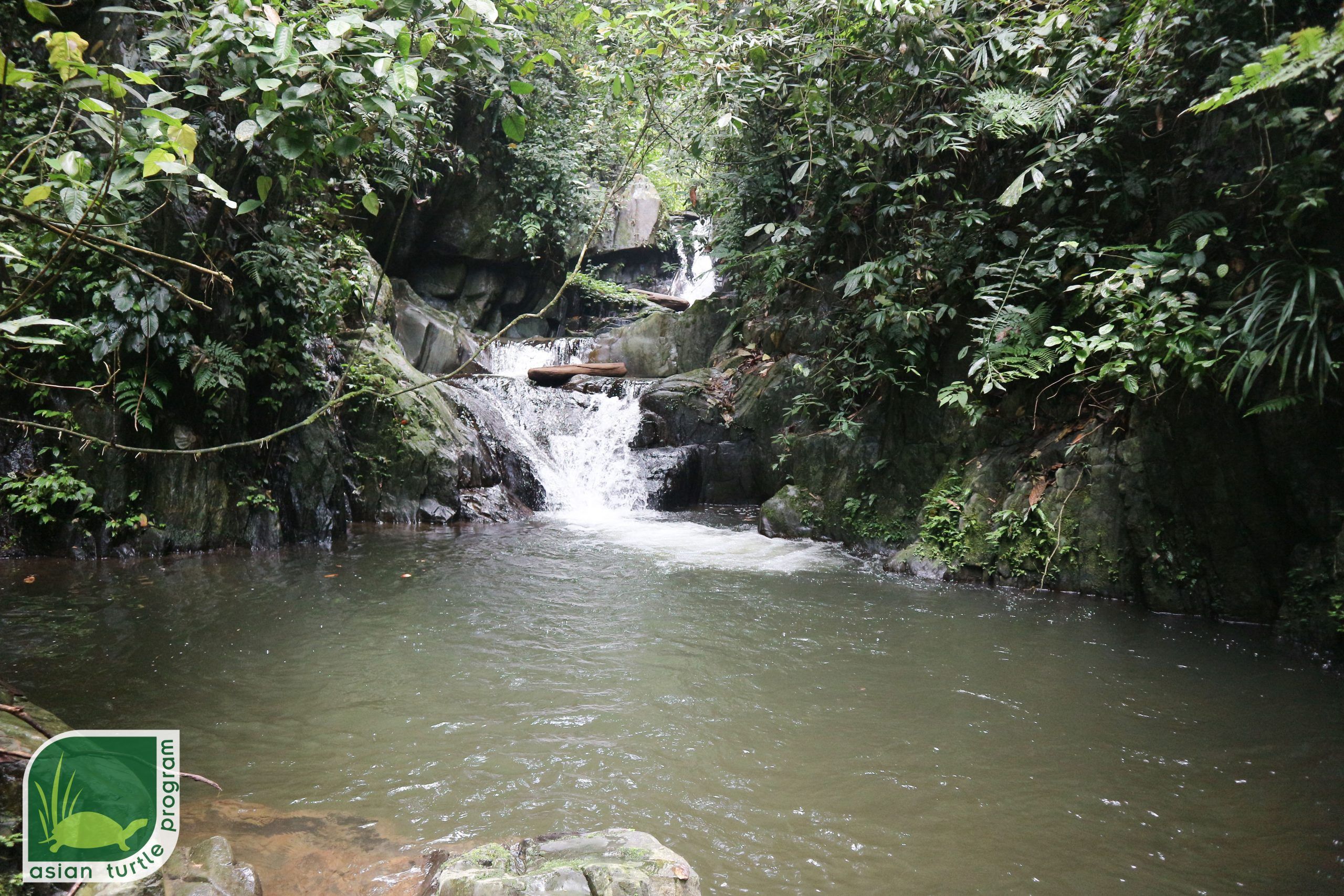 To support the long-term monitoring of the animals after they have been released every individual has been implanted with a unique identification PIT tag which gives an identification number for each animal.  From the 10th to 19th of May 2023, the Asian Turtle Program (ATP) of Indo-Myanmar Conservation (IMC) conducted field surveys at one of the release locations for Big-headed turtle in Pu Mat National Park where turtles were released in 2019 and 2020. By using non-lethal aquatic traps and night time stream walks for 08 days, the survey team found 04 adult individuals of the species. After a quick health check-up, notch sighting, and screening using Tag Readers, the team confirmed that all 4 individuals were the released specimens back in 3 – 4 years ago. All four individuals are in good shape with no sign of injuries, and appear heavier in weight. Two individuals, one male, and one young female were found together in the same site, despite being released 1.5 km away from each other in 2019.
These results indicate that the released population of Big-headed turtles (Platysternon megacephalum) in this area is growing and in good condition, showing effective protection provided by the National Park and other organisations that are working together to protect this area.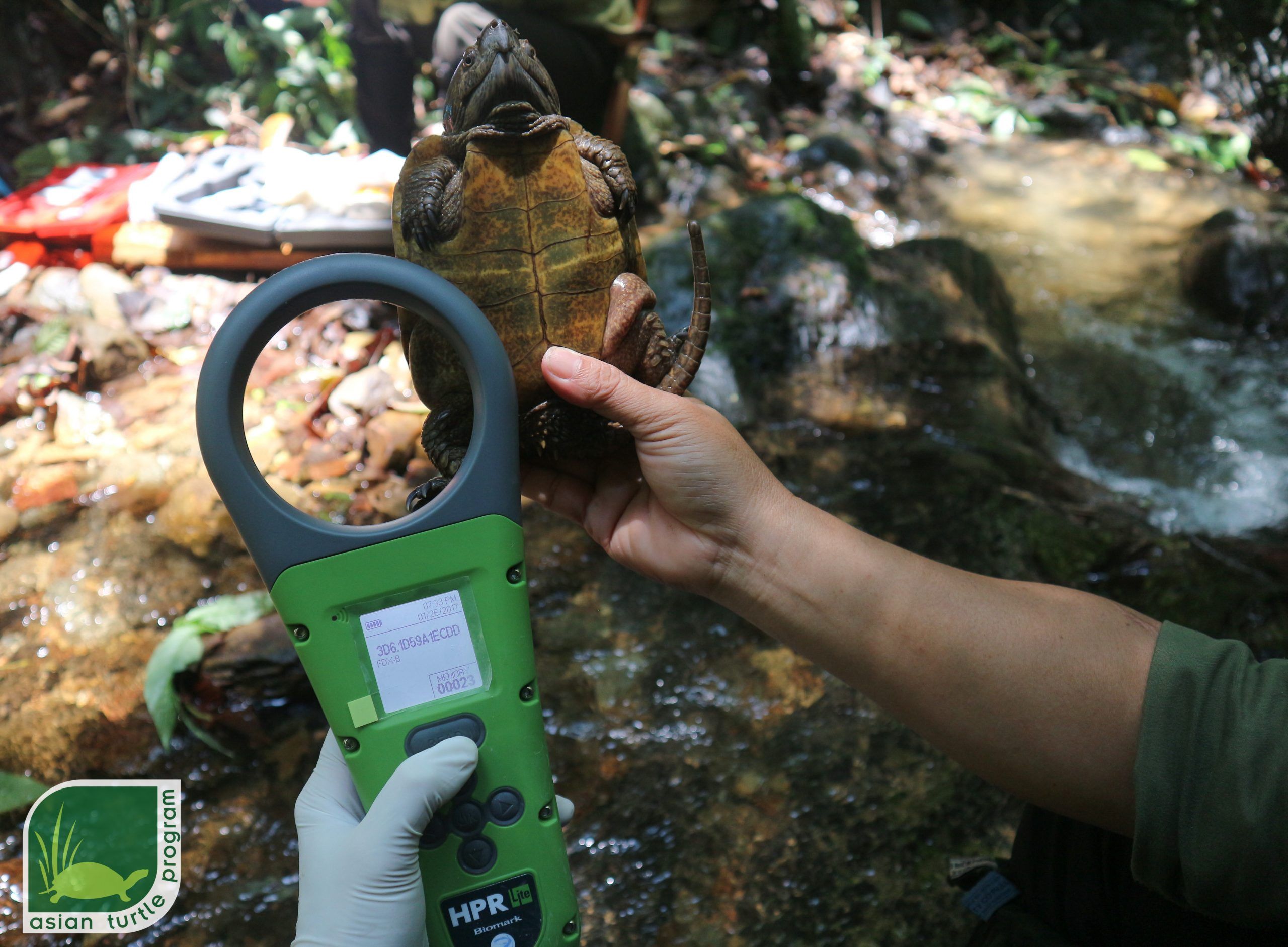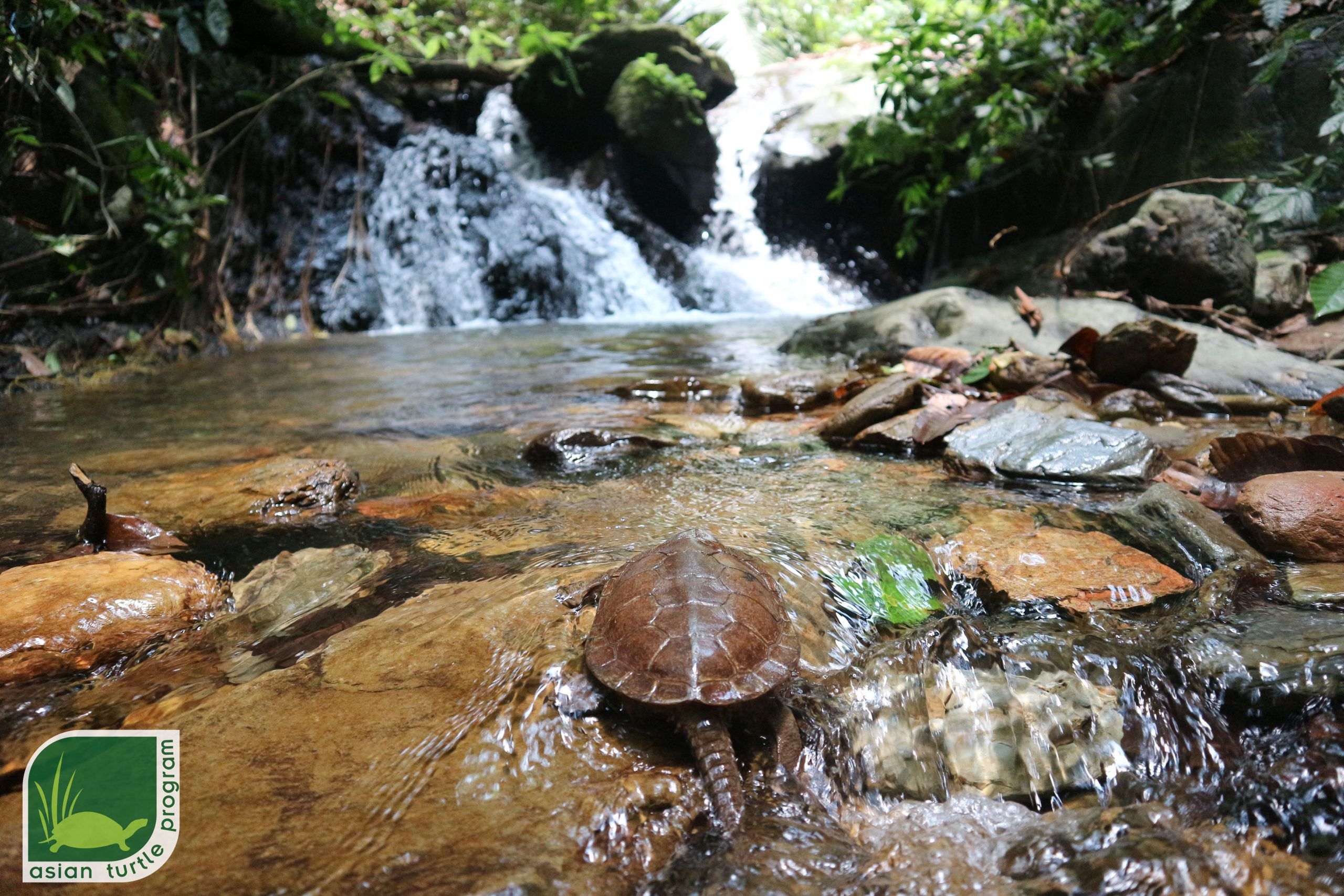 Besides field activities to find turtles in the core areas, the other team is also working on awareness activities like community meetings and school programs in the buffer zone to raise local awareness about turtle conservation among different generations focus on two Critically Endangered species, namely Big-headed turtle (Platysternon megacephalum) and Indochinese box turtle (Cuora galbinifrons). 372 locals in six communes joined the meeting about the legal protection and the status of these two turtle species. In addition, a total of 700 students from four Secondary Schools (Tam Dinh, Chau Cam, Mon Son, and Yen Khe) participated in the exhibition (676 students), and 448 students in four schools as mentioned joined in a talk show on turtle conservation.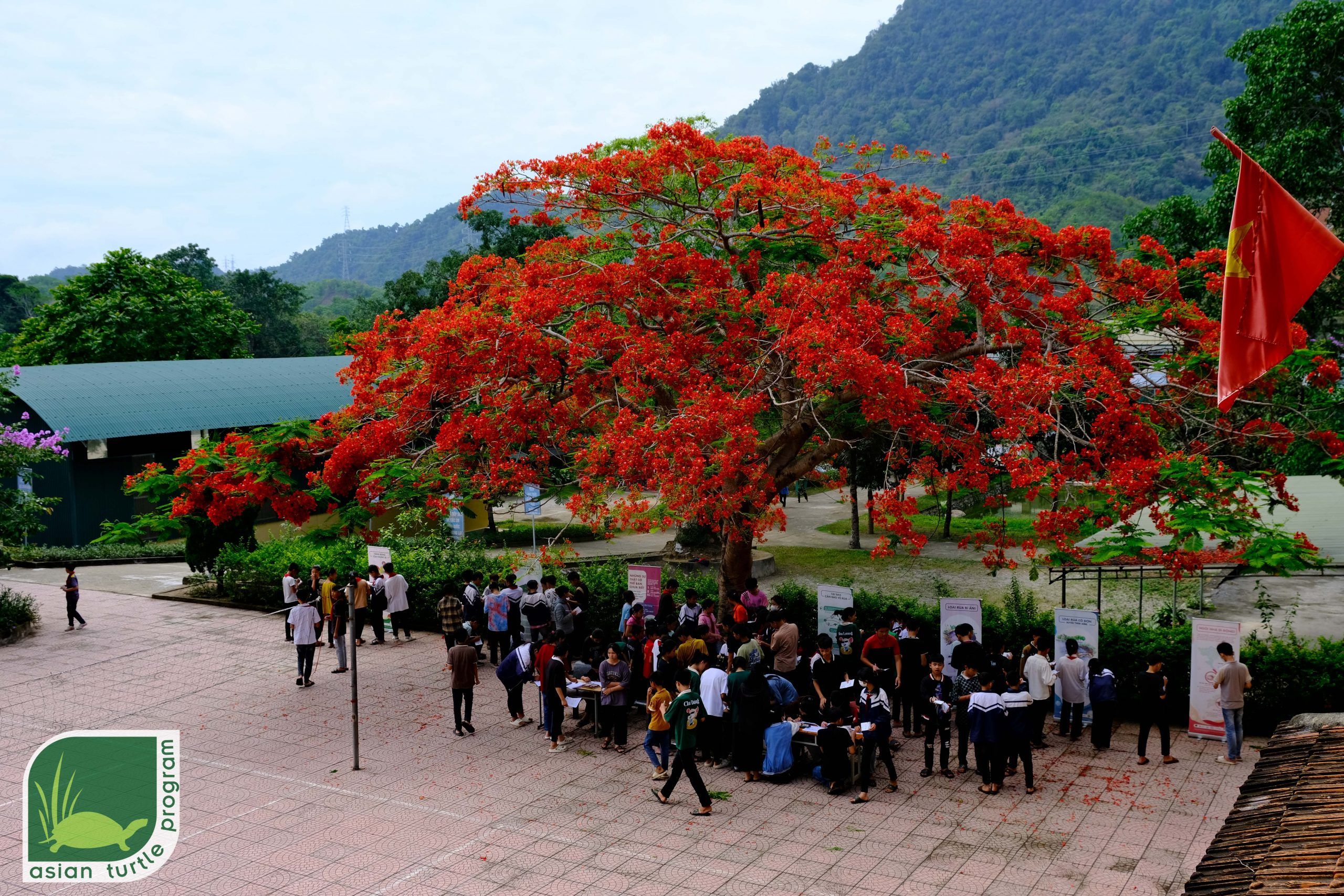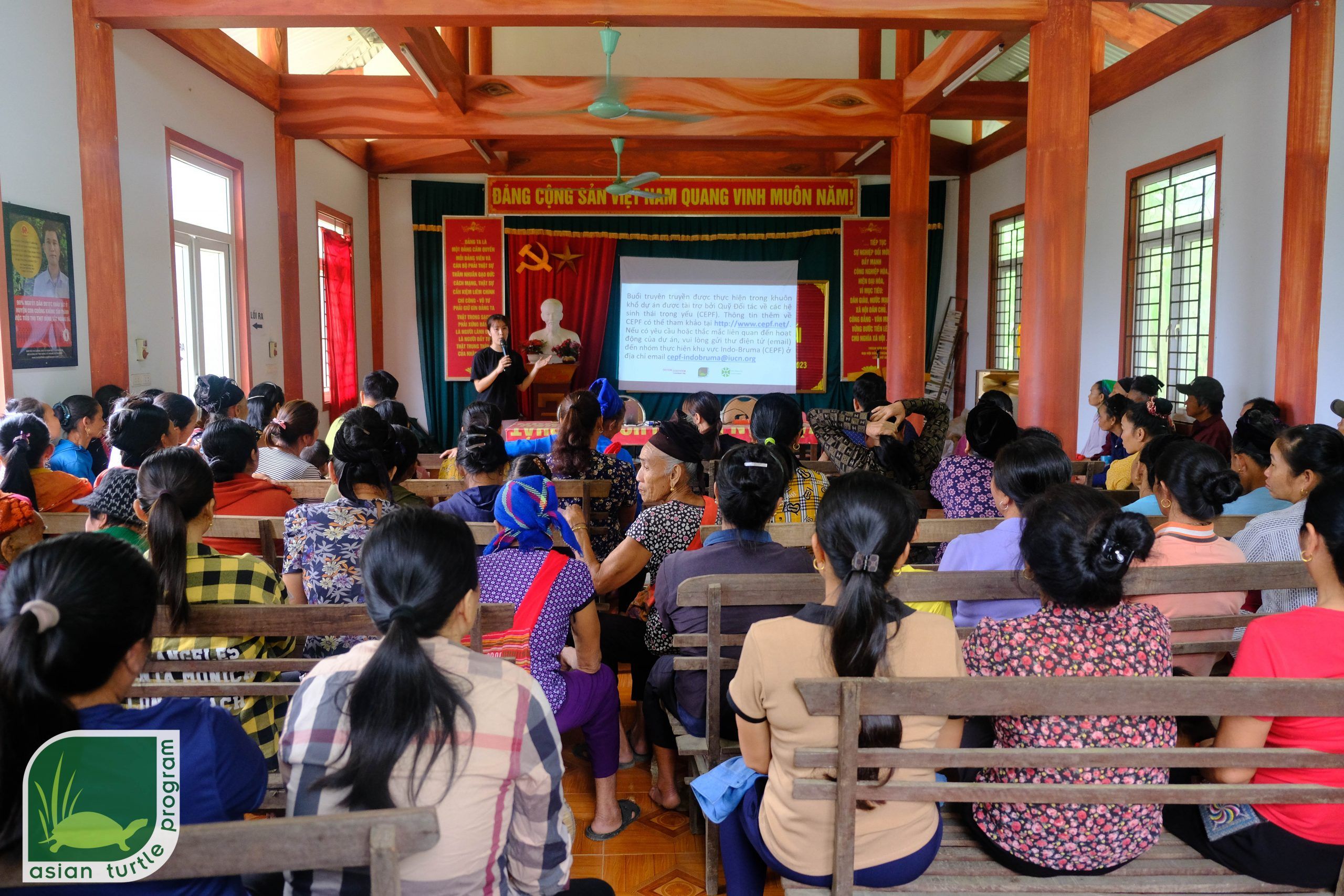 We hope that field surveys and propagate activities in ​​Pu Mat National Park will improve the awareness and understanding of the locals about tortoises and freshwater turtles' species in Pu Mat National Park, so as to protect turtles from the risk of extinction in the near future
We would like to express our gratitude to Pu Mat National Park for facilitating and coordinating this survey. Thank you, Critical Ecosystem Partnership Fund (CEPF) and U.S. Fish and Wildlife Service (USFWS), for supporting this project and all the partners who have been supporting us in turtle conservation.
For further information please contact:
Asian Turtle Program (ATP) of Indo-Myanmar Conservation (IMC).
R.1806, CT1, Bac Ha C14 Building, To Huu Road, Hanoi, Vietnam
Tel: +84 (4) 7302 8389
Email:  info@asianturtleprogram.org