During March 2011 the Asian Turtle Program of Cleveland Metroparks Zoo ran an art competition with its local partner Education for Nature Vietnam (ENV) in schools surrounding the only known wild habitat of the giant Swinhoe's softshell turtle (Rafetus swinhoei) in northern Vietnam. The competition focused on 10 schools around Dong Mo Lake where the species was confirmed in the wild for the first time in 2007. One of only four animals known in the world the turtle confirmed in Dong Mo makes the site the only known wild habitat for the species and a priority for conservation efforts.
While the competition was running a second Rafetus swinhoei in Hanoi's Hoan Kiem Lake also made international headlines when the sacred animal became sick and required capturing for veterinary treatment. A 15th century legend relating to the turtle species in Hanoi mean this animal is known throughout Vietnam as a sacred creature which when seen signals good fortune for Vietnam. Unfortunately hunting and habitat loss in recent decades has resulted in the species almost entirely disappearing since the 1980's when populations of the species could be found in northern Vietnam and southern China.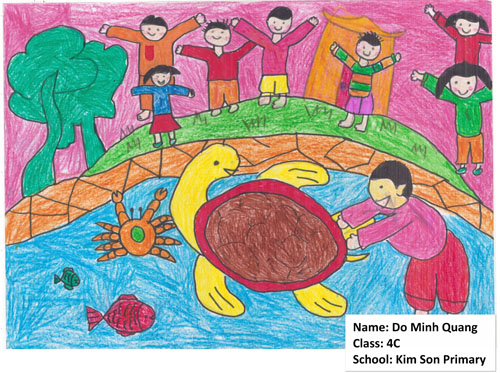 The events of the turtle rescue in Hanoi could clearly be seen in many of the over 3,200 pieces of artwork submitted to the competition. On the 6th of May 2011 an award ceremony at Kim Son primary school to celebrate the art competition and hopefully some budding conservationist too.
Thank you:
We would like to thank all those who have supported our work and the Rafetus swinhoei Project. The Critical Ecosystem Partnership Fund (CEPF), Birdlife International, Columbus Zoo and the Turtle Conservation Fund (TCF). As well as local partners and agencies, Education for Nature Vietnam (ENV), the Forest Protection Department (FPD) and the People's Committee of Vietnam.
Artwork gallery